We offer several methods of alternative giving that allow you to contribute in a meaningful way. One way is through our ongoing 'Cookies for Good' initiative, a partnership with Sugarsnap and Cabot Creamery Co-op that uses proceeds from cookie sales to support our services. You can also create a Facebook Fundraiser to help spread awareness and raise funds for COTS. Additionally, during the holiday season, you can give gifts through the COTS wishlist online or drop them off at the COTS Housing Resource Center.
Holiday Giving
The holidays are a particularly stressful time for families in shelter, and one way you can help is by donating gifts. Your gift donations make a huge difference in alleviating the stress of the holiday season, so thank you for making a difference!
There are a couple ways you can donate holiday gifts.
Shop online and have donations shipped directly to COTS

We have an Amazon wish list that you can purchase from and other ways to shop for children online. These wish lists are curated with specific children in mind. (Our street address for shipping packages: COTS, 95 North Avenue, Burlington, VT 05401).

Drop off donations to COTS

You can drop off gift donations to COTS at 95 North Ave, Monday through Friday from 9am - 5pm. If you have a larger donation, scheduling a drop-off time is extremely helpful to ensure that we can get gifts into the building in a timely manner. Email romyt@cotsonline.org to schedule a drop off time or call (802) 343-6903.
Things to keep in mind when purchasing gifts: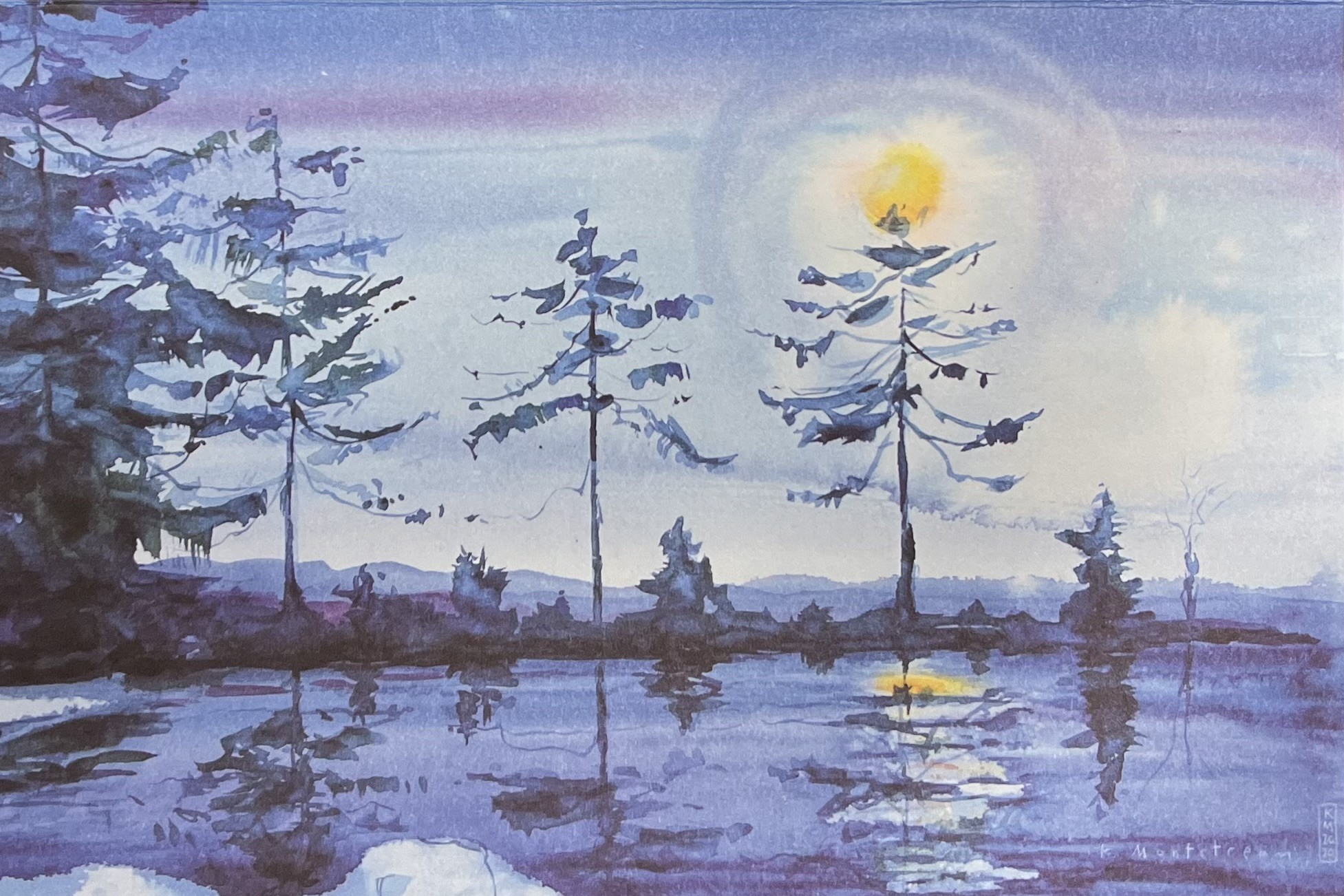 Order Holiday Cards
This year's COTS holiday card is a beautiful winter moonset scene painted by local artist Katharine Montstream with the greeting: "Warmest wishes and happy holidays for a season of peace and joy."
A volunteer provides additional personalized messages and signatures. There is a suggested $15 donation per card.
If you would like COTS to mail cards directly, please include the following with your donation: your name, address, and phone number – and the names and addresses where you would like us to send the cards.
How to order: Contact Gillian at gilliant@cotsonline.org.
Questions? Call us at (802) 864-7402.
Cookies for Good
Cookies for Good is a "bake sale every day" for COTS that began when Cabot Creamery Co-op approached COTS with a novel idea: Baking cookies and selling them to support homeless shelters and homelessness prevention programs in Vermont. Sugarsnap, a Vermont farm-to-table caterer owned by Abbey Duke, partnered on the project.
In December 2010, the bake sale officially began. At least 35% of all cookie purchases through Sugarsnap go to support COTS shelter and homelessness prevention programs. In 10 years, nearly $100,000 has been raised to support these services.
How to order
Serve Cookies for Good at your holiday party or business lunch, or send them to a friend, co-worker or customer.
Nine flavors of locally sourced treats are available:
Chocolate Chip
Java Hazelnut
Peanut Butter
Double Chocolate Cherry Almond
Bittersweet Chocolate Orange
Oatmeal Raisin
Lemon Poppyseed
Ginger Molasses Snaps Coconut Cardamom with Black Sesame
SugarSnap ships nationally making this a great holiday gift!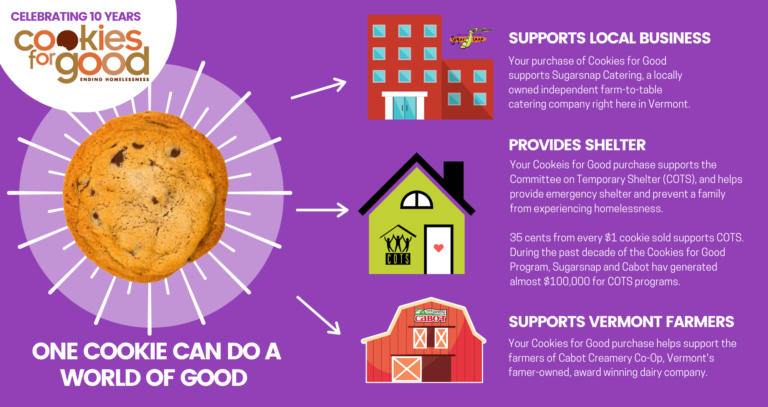 Facebook Fundraisers
These fundraisers are not only easy to set up, but they're also a fun way to show your support for COTS!
To create a fundraiser for COTS simply:
Set up a Facebook account

Make a post

Click "Raise Money"

Search "Committee on Temporary Shelter"
For complete instructions on how to set up a Facebook Fundraiser, visit the website.