What does COTS stand for?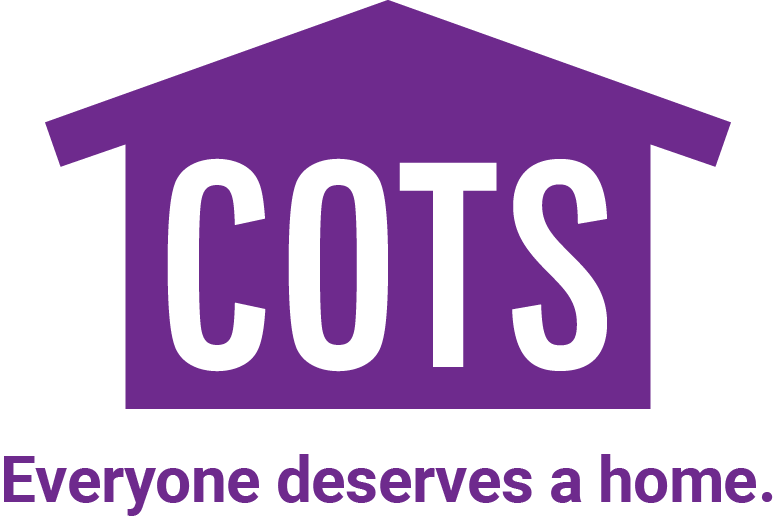 COTS has announced that it will drop its "Committee on Temporary Shelter" name and will now go simply by "COTS." The Burlington-based non-profit also recently unveiled a new logo design and redesigned website.
According to Executive Director Jonathan Farrell, "the world has changed drastically since COTS was founded 40 years ago, and we have evolved as an organization to meet growing needs in our community. We have grown from a committee tasked with creating a temporary shelter to keep people from freezing at night to an award-winning non-profit organization aimed at addressing systems contributing to homelessness. To better reflect who we are today, COTS has undergone a year-long process to explore our identity and brand."
"The name "Committee on Temporary Shelter" no longer feels like a valid description of who we are and what we do. From now on, we will be known only as "COTS," said Farrell.
COTS Development and Communications Director Rebekah Mott said, "While 'COTS' will no longer serve as an acronym for 'Committee on Temporary Shelter,' it is imperative that we honor the original committee who stood up for those without shelter in our community. COTS stands for a lot of things. We stand for dignity for all human beings. We stand for the unwavering belief that everyone deserves a home. We stand for systemic solutions to complex problems."
The new logo design is a nod to the former iteration, with an emphasis on the house image and tagline, "everyone deserves a home."
While COTS re-evaluated its identity and refreshed its logo design, it also redesigned the website, which is often the first place people go when they need help or want to help. The process of refreshing the site included assessing and evaluating the current website, completing an accessibility audit and DEI audit in partnership with nuwave Equity Corp, investigating traffic patterns and clicks, interviewing several local companies with whom to partner, and meeting with various COTS staff members and teams to discuss feedback, hopes and dreams, and client experiences.
COTS worked with Eternity, a local company with a stellar reputation and experience with nonprofits. Local photographer Stephen Mease provided professional photography in support of the new site.
Mike Lannen, Founder of Eternity said," "Eternity has been building websites for nonprofits since 2000 and when the opportunity came to work with COTS on a new website build, we could not have been happier. What we enjoyed most about working on the project was how we knew what we were building was going to have a direct positive impact in the community around us and that aligns so perfectly with our goals for projects that we take on."
"Our refreshed logo, identity, and website are visual representations of our commitment to serving our neighbors experiencing homelessness and creating a world where everyone has a warm, safe place to rest their heads every night. It is a celebration of how far we've come and a promise to continue to work until these dreams become reality," said Farrell.