Thank You for Supporting COTS this Holiday Season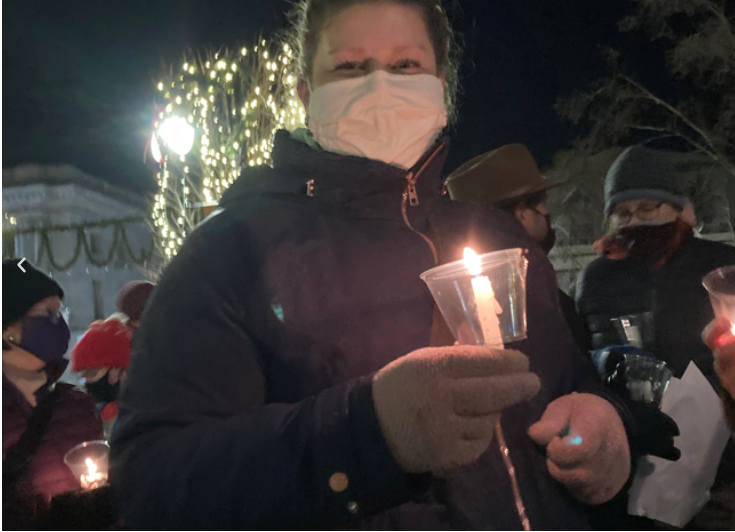 COTS has been busy this holiday season! Here is a recap of some of the happenings at COTS this winter.
We met our fundraising goal for our annual Phonathon
The COTS Phonathon is our oldest fundraiser. Each year, the week after Thanksgiving, staff and volunteers call past COTS supporters and ask them to consider a gift to COTS again this year. This year we set our most ambitious goal yet – $250,000. Thanks to you, our donors and supporters, we were able to meet this goal. Thank you to our amazing volunteers who called past supporters and asked them to donate again. Thank you to our generous supporters who donated to this vital fundraiser. Thanks to our media sponsor, 98.9 WOKO with support from M&T Bank. Thank you to New England Federal Credit Union for their generous challenge grant that matched all new and increased donations. And thank YOU for supporting COTS. The Phonathon is vital to the services COTS provides, and we couldn't do what we do without the generosity of our amazing community.
City Market held their 25th annual tree sale benefitting COTS
Every December since 1998, City Market has sourced fresh trees from local farms and sold them to raise funds for the Committee on Temporary Shelter. This year, 750 trees were sold with $19,898.30 raised for COTS through tree sales and $5,167.31 raised for the Intervale Center through Rally for Change. Over $206,000 has been raised for COTS since the start of the sale 25 years ago! Read about this year's tree sale, celebrating a quarter century of support.
COTS held a successful holiday toy drive for families in shelter
Thanks to our amazing supporters and generous donations from the community, we filled up our toy room with many wonderful gifts – from legos to books to gift cards. Volunteers helped set up the toy room at 95 North Ave, where parents in shelter could pick out gifts for their children. On Thursday, December 22, the toy room was opened up to anyone in the community in need of last minute holiday gifts, and remaining gifts were donated to our partners at the Sara Holbrook Community Center.
We held our annual Candlelight Vigil on the winter solstice to honor those who have died while homeless.
The vigil was held in front of Burlington City Hall on Church Street. It opened with an address from COTS Executive Director Jonathan Farrell.
Each December, there are as many as 14 religious holidays that are celebrated at some time during the month. The traditions and the rituals enacted are many and varied, and at this time of year, we retell all of the ancient stories. A teenage mother is given respite in a stable in a crowded city. A one day supply of oil lasts eight days until more can be properly secured. A seeker pauses under a tree and finds direction on how to alleviate suffering in the world. A fire is lit from the embers of last year's fire, marking the transition from the shortest day of the year as the daylight slowly grows.

And it's here that we find ourselves tonight, on the day of the year with the least amount of sunlight, looking for the light that is to come. Time seems to hold still for just a brief moment as the sun reaches it's lowest path in the sky and then begins to climb a little higher each day. It's time to welcome a stranger, to light the lamps, to light the yule logs.

It's also a time for reflection – to look back over the last year, to see what we have done, and to lay plans for the coming of the light. So as we tell the ancient stories, as we light our Christmas trees, as we light our menorahs, as we reflect on ways to alleviate suffering in the world, as we light the fire from last year's ember, we also aim tonight to rekindle the flame in our collective community's heart.

We will share our stories of love, hope, and compassion; stories of those that this community has touched by sharing your time, your abundance with COTS. We pause in our busy lives in a busy season to light a flame for each of the lives that have been touched by this community, and we pause to lay plans for how we can alleviate this great need in our cities and towns. We pause to contemplate how to create a more just time in which housing is a given and not a scarce resource only available to some.
This was followed by a moment of silence, and songs sung by the Edmunds Elementary School children's choir including "Everyone Deserves a Home." Volunteers & supporters in the community then read short excerpts & vignettes from past COTS clients, lighting candles to recognize those who have died while homeless over the last year.
Thank you so much for making a huge difference during one of the most difficult times of the year for many. Your dedication to serving the most vulnerable members of our community alleviates some of the stress of the holiday season and cold winter months, and we couldn't provide services for those experiencing homelessness or at risk of experiencing homelessness without you.