Thank You for a Successful COTS Walk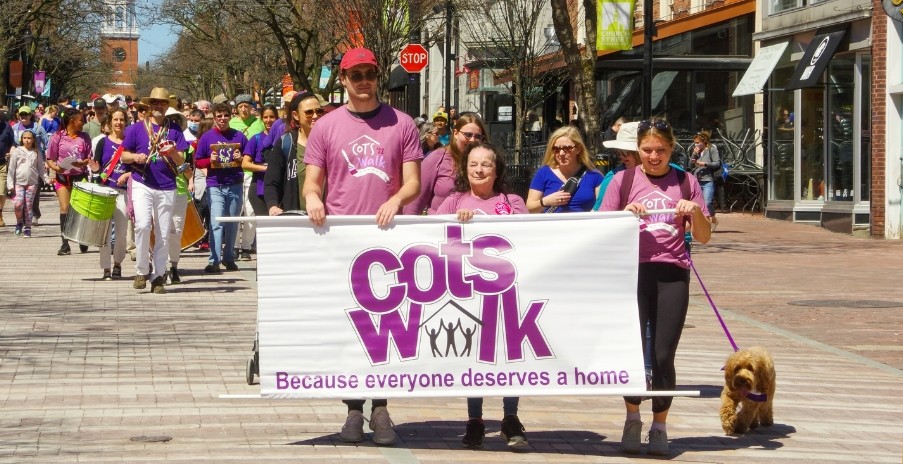 The 33rd Annual COTS Walk took place on Sunday, May 1st as the first in-person Walk since 2019 – and it was a huge success! The event started at 1PM with live music from In the Pocket Jazz, art activities like an interactive splatter paint board, and of course, the presence of Champ the Lake Monster. The Walk kicked off at 2PM after words from Rita Markley, Executive Director of COTS, and Rebekah Mott, COTS Director of Development. Along the Walk route Walkers enjoyed snacks and goodies from our Walk sponsors, musical performances, interactive exhibits, and information about each of the COTS Walk stops. At the end of the Walk, Ben and Jerry's gave out free scoops of ice cream.
Now that the Walk has concluded and totals have been tallied, we are so excited to announce that we have officially reached our fundraising goal of $205,000 for the 33rd Annual COTS Walk – all thanks to you!!
Thank you to our registrants, donors, sponsors, volunteers, and staff for making this possible. We had an amazing turnout for this year's event, including over 350 registrants, and a Walk day attendance of around 1,500 walkers. This is great for our first in-person Walk since 2019, and we couldn't have done it without your help.
Everyone at COTS wants to say that we deeply appreciate you – for walking, fundraising, supporting, and helping raise awareness for the COTS Walk. It was amazing to see not just your support for COTS, but everyone's excitement and willingness to help. We could not have done it without you, and we hope you know how big of a difference you make. Your fundraising, volunteering, and donations are one of the main sources of funding for COTS shelters, programs, and services.
"It was really impactful seeing folks of all ages engaging with COTS in so many ways all in support of the same mission to end homelessness. It was meaningful to see the community interact with staff and learn about COTS shelters, programs, and housing because many folks walk or drive past these locations all the time never knowing they are COTS sites. COTS is much more than a couple of shelters – it involves so many people, programs, and services – from prevention to emergency shelter, to permanent affordable housing. I think it's so important for people to participate in the Walk because it draws a wholistic picture of COTS' many different functions, and humanizes folks experiencing homelessness by bringing awareness to the fact that they are people in the community who you probably walk past every day."– Jaclyn Dennis
Thank you for helping us toward our mission to end homelessness in Vermont! NOTE TO TEAMS: If you are still looking for your team photos from Walk Day, they will be posted on the COTS Walk webpage. They will also be posted on the COTS Facebook page. We are awaiting the finishing touches from our lovely volunteer photographer and will post the photos as soon as they are available

Thank you to all our sponsors for your generous support of COTS!