COTS Executive Director of 30 Years Announces Retirement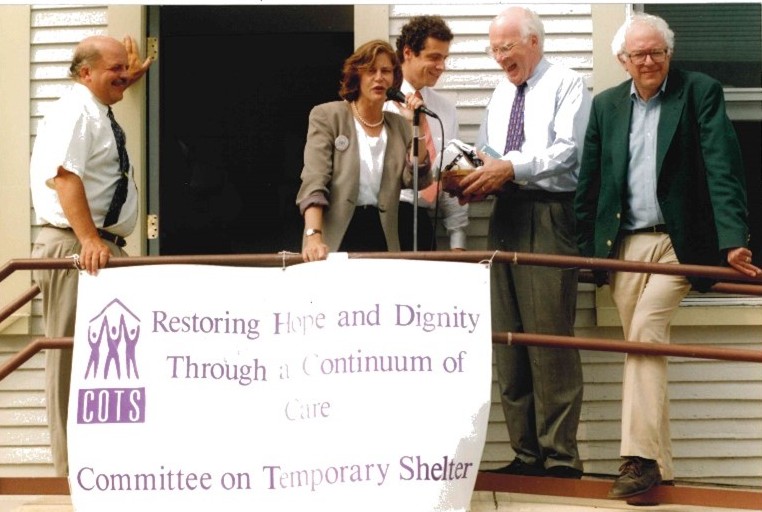 —The Committee on Temporary Shelter bids farewell to longtime leader, celebrates a lifetime of achievements—
(BURLINGTON, VT) — Today, the inimitable Rita Markley formally announced her upcoming retirement as Executive Director of the Committee on Temporary Shelter. Markley will step down on September 30, 2022, after 30 years of service to the non-profit organization.
"When I first walked through the doors of COTS 30 years ago as a volunteer, I had no idea that this organization would become the greatest love of my life, besides my family," Markley shared. "I am deeply grateful for the remarkable staff, board, volunteers, and donors who have focused on solutions and innovative approaches to ending homelessness. COTS has never been stronger, and I am thrilled to see what the next generation of leadership will achieve."
According to US Senator Patrick Leahy, "Rita has been a steadfast champion for Vermont's homeless population and all Americans struggling to secure safe and affordable housing. As the longtime leader of COTS, Rita has continuously approached the challenge posed by homelessness with creative solutions centered around the individuals she seeks to serve. Marcelle and I have the deepest respect for her compassion, her spirit and her dedication to her work. We wish her all the very best in her retirement."
Over a lifetime of work, Markley's unwavering dedication to addressing systems of inequality that contribute to homelessness has had a lasting impact in Vermont and beyond. Some notable achievements include:
· Shifting the organization's focus from charity to advocacy—moving beyond emergency shelter to END homelessness through prevention and permanent housing
· Founding the Chittenden County Continuum of Care as well as the Statewide Coalition to End Homelessness, serving as the first Chairperson of both
· Launching the Housing Resource Center, the largest homeless prevention initiative in Vermont, at the height of the Great Recession
· Creating 54 units of deeply affordable permanent housing, with 16 additional units specifically for families coming online next year
· Restoring a historically significant, rundown building with numerous structural problems into the vibrant hub of activity at 95 North Avenue. Today, this houses the Housing Resource Center, Daystation, 14 units of permanently affordable housing, and administrative offices.
· Launching the Innovation Fund to allow COTS to constantly devise, test, and implement new ideas
· Pioneering the aspirational housing model and Risk Guarantee Fund, giving countless families and individuals a shot at obtaining permanent housing in the community
"Rita is an intrepid leader who has inspired thousands of others to take action to end homelessness," said COTS Board of Directors Chair Tom Stretton. "Her enthusiasm for finding creative solutions to complex issues has propelled COTS to become a model for programming statewide and nationally. Through her work, both directly and indirectly, Rita has touched thousands of lives over the past three decades."
Under Markley's guidance, COTS has established a strong network of partnerships among other non-profit service providers, strengthening the support for families and individuals experiencing homelessness.
"It has been my utmost privilege to work alongside of and collaborate with Rita Markley," said Spectrum Executive Director Mark Redmond. "Words cannot express the incredible support she has been to me personally and to the many others who are involved in the fight to not only house the homeless, but to create a city, state and world built on justice and human dignity. We stand in debt to Rita for all she has done for the city of Burlington and for all of Vermont."
COTS is preparing for its next chapter and the Board of Directors will head the search for COTS next Executive Director. The Board will work with COTS leadership to establish a succession plan which will include gathering input from stakeholders.
Both COTS and Markley herself have racked up a long list of awards and accolades over the years, including:
· Maxwell Award for Excellence from Fannie Mae Foundation for St. John's Hall renovation, 1992
· HUD Blue Ribbon Best Practice Award for developing innovative, effective programs that are models for other communities, 1998
· US Conference of Mayors Best Practice Award for creating continuum of care, 1998
· Rita Markley receives Vermonter of the Year Award presented by the Burlington Free Press, 1999
· Gunther Award for Excellence for Home Again, an early iteration of the Family Supportive Housing Program, 1999
· Rita Markley recognized with the Dr. Martin Luther King, Jr. Community Service Award, 2001
· Green Mountain Coffee and Ashoka's Changemaker Award for the Housing Resource Center prevention and rehousing program, 2010
· Vermont AIA People's Choice Award for Canal Street Veterans Housing building, 2011
· Efficiency Vermont's New Construction Honor Award for innovative architectural design of the Canal Street Veterans Housing building 2012
· Vermont Campus Compact's Engaged Community Partner Award, 2012
· Rita Markley is bestowed Distinguished Citizen Award presented by Champlain College, 2013
· Champlain College, Center for Service and Civic Engagement Community Partnership Award, 2014
· Rita Markley receives honorary doctorate from St. Michael's College, 2016
· Rita Markley is bestowed the Bob Skiff Community Improvement Award, presented by the Greater Burlington Industrial Corporation, 2017
· Preservation Trust of Vermont Award for preserving Vermont's architecture through the 95 North Avenue project, 2018
For more information about COTS, please visit www.cotsonline.org.
About the Committee on Temporary Shelter:
The Committee on Temporary Shelter (COTS) is the largest service provider for the homeless and those at risk of becoming homeless in Vermont. The mission of COTS is to provide emergency shelter, services, and housing for those who are homeless or marginally housed. We believe in the value and dignity of every human life; we believe that housing is a fundamental human right; and we believe that emergency shelter is not the solution to homelessness. We operate 9 locations in Burlington and Winooski.