COTS Back to School Drive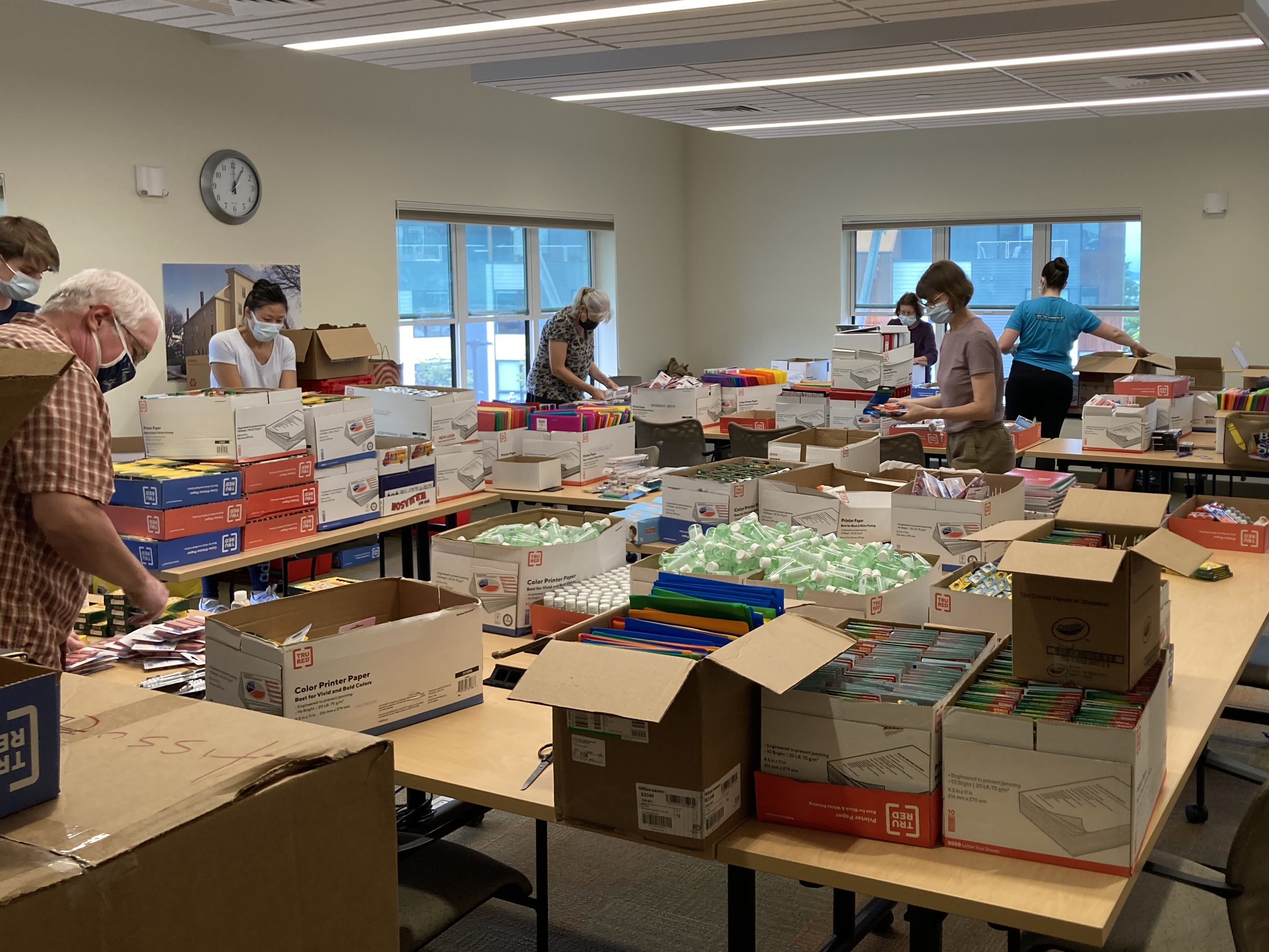 The annual COTS Back to School Drive kicked off in late July with a Lake Monsters Game and concluded on August 31st. The Back to School Drive began in 2015, making this the sixth successful year of helping get much-needed supplies into the hands of children in our community.
The drive began as the #172VT campaign, representing the 172 children experiencing homelessness that year in Chittenden County. Since the 2015 call to action to support youth, COTS has delivered thousands of backpacks full of school supplies to children both in shelter and through partnering organizations.
The importance of this event cannot be emphasized enough, especially amidst the COVID-19 pandemic. In 2019, 1,008 public school students in Vermont experienced homelessness over the course of the year (US Interagency Council on Homelessness). In January 2020, the national number of unsheltered families rose by an alarming 12.8% and is expected to have significantly risen amidst the pandemic (2020 Annual Homeless Assessment Report (AHAR) to Congress).
National increases in homelessness combined with a global pandemic make our Back to School Drive especially important in creating awareness around child homelessness. With this drive, COTS hopes to give the students experiencing homelessness in Burlington public schools the tools that they need to succeed – including both school supplies and face masks/hand sanitizer.
Thanks to our corporate sponsors and individual donors, we were able to collect thousands of school supplies for children in our community. Among those were 1,234 boxes of colored pencils, 1,418 folders, 1,304 crayons, 520 notebooks, and 1,748 Staples packets containing glue, pencils, pens, highlighters, dry-erase markers, sharpies, and erasers.
With the help of 15 volunteers, we were able to stuff 145 backpacks for children seeking COTS services. The almost 10,000 remaining supplies that were not stuffed into backpacks were divided amongst our non-profit partners: King Street Center, Steps to End Domestic Violence, Spectrum Youth, Sara Holbrook Center, and Boys and Girls Club of Burlington. We also shared supplies with Mercy Connections, various clinics, and school districts.
This event would not have been possible without the help of our sponsors. We are enormously grateful to Homebridge, KeyBank, Staples, and Star 92.9. Thank you Rhino Foods for collecting supplies for us, and Vermont Lake Monsters for hosting the Back to School Drive Kick-off at Centennial Field. We appreciate your support!
A huge thank you is also due to our wonderful community for helping with this event. We appreciate all those who donated supplies from our wish list, ordered online, and purchased a pack, as well as the volunteers who came out and helped. We couldn't have done it without you!
To learn more about child homelessness and poverty, check out the following resources:
Growing Up Poor in America, documentary by Frontline PBS – Growing Up Poor in America | Watch S2020 E3 | FRONTLINE | PBS | Official Site
Poor Kids, documentary by Frontline PBS – Poor Kids | Watch S2017 E24 | FRONTLINE | PBS | Official Site
Source:
2020 Annual Homeless Assessment Report (AHAR) to Congress – https://www.huduser.gov/portal/sites/default/files/pdf/2020-AHAR-Part-1.pdf