Annual Diaper Drive – Help Relieve the Diaper Need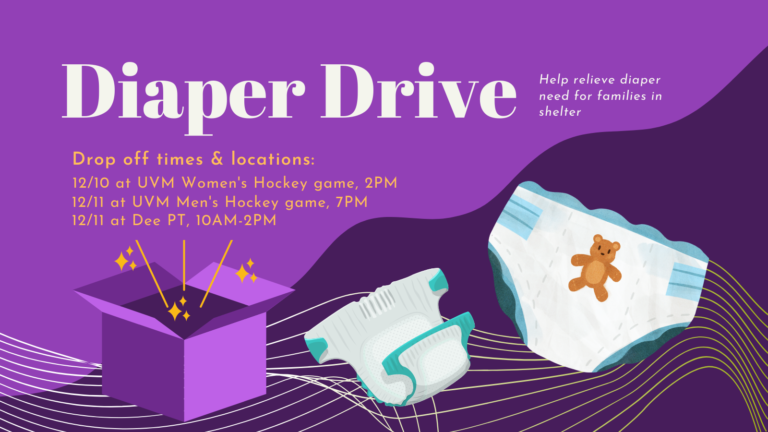 The 2021 Dee PT Great Diaper Dump
The 14th annual Dee PT COTS Diaper Drive is upon us! This year, the event will look slightly different. Dee PT is holding the event as a one-day only drop off, or the "2021 Dee PT Great Diaper Dump." Additionally, this year COTS is partnering with the Junior League of Champlain Valley (JLCV) Diaper Bank in order to expand the impact of the Diaper Drive and get more diapers into the hands of people who need them.
You can donate online by visiting our Amazon wish list and have your donations shipped directly to COTS, or you can bring your diaper donations in person on December 11, 2021, from 10 AM – 2 PM to Dee PT:
23 San Remo Dr, South Burlington, VT, 05403
You can also bring your diaper donations to the following UVM Hockey games:
12/10 UVM Women's Hockey Game at 2PM OR 12/11 UVM Men's Hockey Game at 7 PM. For more game details, visit the UVM Athletics website.
The Need for Diapers
The Dee PT COTS Diaper Drive is a vital event that aims to provide diapers to people who need them. Diapers are a very important resource for COTS clients, and are a common need for families in shelter.
"Diaper need" is the lack of a sufficient supply of diapers to keep an infant or child clean, dry, and healthy. Without diaper need being fulfilled, there can be many negative impacts on the life of the family and the child. Without diapers, infants and toddlers cannot attend childcare or participate in early childhood education. Without childcare, parents cannot go to work or school. Not working can disqualify a parent from vital childcare resources.
Children in low-income families are at greatest risk of suffering the effects of diaper need because many families can't afford diapers. Current public support programs help some, but young children have additional needs necessary to build a strong foundation for healthy growth and to reach their full potential.
The only federal assistance program that can be used for diapers is TANF (Temporary Assistance for Needy Families), but TANF must cover many other expenses, including heat, electric and water bills, rent, clothing, transportation, and other basic needs. Little if any money is available to purchase enough diapers to keep a baby clean, dry, and healthy.
No state or federal safety-net program allocates dollars specifically for the purchase of diapers.
Diaper Stats
In the United States:
"Diaper Need" impacts one in three U.S. families and the well-being of our country's infants and toddlers.
The average monthly supply of diapers costs $80 per child.
Nationally, 57% of parents experiencing Diaper Need who rely on child care said they missed an average of four days of school or work in the past month because they didn't have diapers.
In Vermont:
Burlington's Feeding Chittenden reports that 6-10 people per day are requesting diapers.
75% of mothers with infants are in the workforce
A two-parent household will spend 14% of their income on infant care
A one-parent household will spend 48% of their income on infant care
Resources:
Junior League of Champlain Valley
For more information, email Romy Theisen at romyt@cotsonline.org.